The Fight is On at Shenandoah's Pride
And it's a fight that we need to participate in if we are to win. We must apply community pressure to the company. Here's why:

In June, workers at Shenandoah's Pride alerted the Local Union of their employer's intent to consolidate brand and private label milk products at Martins Food Stores through the use of non-union drivers.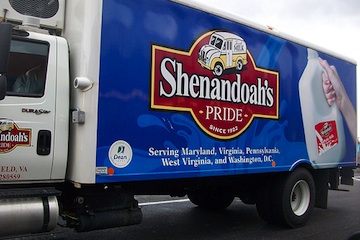 You can imagine what the result of that decision will be.
Good paying, full-time jobs will be lost. Workers unemployed. Families negatively impacted.

The Union responded swiftly, filing a Grievance and an Informational Request. The Company's intent became obvious when it denied the grievance before a meeting was scheduled to discuss the violation. In addition, the Company has to date failed to respond to the bulk of the Union's informational request, which it is required to do by law.

A grievance meeting was in fact held in September, but the Company again denied both grievances. The Union has filed for arbitration of both grievances and is awaiting selection of an arbitrator and hearing dates.

It appears that Shenandoah's Pride is placing more value on its place in the community than it is on the well-being of its workers and their families. We offered creative solutions that would satisfy the company's need to maintain customer service and satisfaction but also protect our work, but it refused to discuss them.
So if they won't listen to us at the grievance table, we need to tell the people who buy their milk what the Company is doing to its workers.

At a time when the corporate war on workers is striking in every corner of every state, we can't sit back and rely solely on the legal system to adjudicate our contractual dispute with this employer.

We must take ownership of it and get out there. More and more people are taking issue with companies' outsourcing local jobs. These days, they are more likely to listen to the employee being impacted by anti-worker tactics.

So download the flyer linked below to give to family members and friends and ask them help you pass them out so the community learns about the very real threat to your job.

In these times we can't leave it to the next guy. Everyone needs to be all in!

If you have any questions, please contact Secretary-Treasurer Tom Krause at 301-739-7550.
Download:

Shenandoah Pride flyer.pdf