Local and National Union News

Ratified UPS National Master Agreement not in effect until all supplements approved
Oct. 17, 2018 | The National Master Agreement has been ratified, but it will not go into effect until six rejected supplements have been re-voted and approved. Package Division Director Denis Taylor has reached out to UPS requesting a meeting to discuss the contract. Local Unions will be kept informed as this process continues. Once the six outstanding supplements are ratified, the national agreement will go into effect, with economic improvements retroactive to August 1, 2018. Watch for updates at UPS Rising.

Teamsters give UPS Freight termination notice on Extension Agreement
Oct. 17, 2018 | In light of UPS Freight members rejecting the National Master Agreement, the negotiating committee notified the company October 9 that the current contract's extension agreement will terminate on Nov. 12. Following discussions with local union officers to determine member priorities, the committee will hold further negotiating meetings with the company to address members' concerns. The first such negotiations are scheduled the week of October 22, 2018. Watch for updates at UPS Rising.

TeamsHERS on the job
Oct. 16, 2018 | Listen to the latest episode of the Teamster Nation Podcast and hear how Teamster women are using union power to earn more, learn more and lead more on the job. Plus rocker Joan Jett tells women to stand up for themselves, even if it gives them a "Bad Reputation." Listen here.
| | | |
| --- | --- | --- |
| | | |
| | | |
| | | |
Oct. 23, 2018 |

LABOR RIGHTS

| Cesar Rodriguez, a driver for the Ports of Los Angeles and Long Beach, is part of a group of port drivers fighting for rights to join a union. He's relieved to have parts of the labor movement on his side. Although he is not unionized, he says he already feels like part of a Teamsters local due to the union's support for workers like him on two fronts: labor rights and immigration justice. The Teamsters is one of the labor unions taking a stand to protect TPS holders with the message that immigrant rights are worker rights. Six unions representing 3.5 million workers have teamed up under the banner of Working Families United to join the campaign to save TPS and demand Congress take bipartisan action to allow TPS holders to stay in the country… Working In These Times
October 17, 2018 |

ECONOMY

| If you've been following the impending bankruptcy of America's iconic retailer, as covered by print, broadcast, and digital media, you've probably encountered lots of nostalgia, and sad clucking about how dinosaurs like Sears can't compete in the age of Amazon and specialty retail. But most of the coverage has failed to stress the deeper story. Namely, Sears is a prime example of how hedge funds and private-equity companies take over retailers, encumber them with debt in order to pay themselves massive windfall profits, and then leave the retailer without adequate operating capital to compete. Part of the strategy is to sell off valuable real estate, the better to enrich the hedge fund, and stick the retail company with costly rental payments to occupy the space that it once owned… American Prospect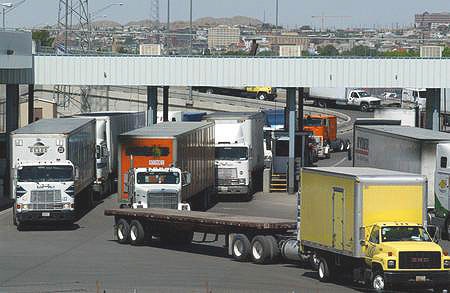 October 16, 2018 |

TRADE AGREEMENTS

| The U.S. could slam the brakes on Mexican trucks providing long-haul trucking services beyond U.S. border commercial zones. Annex language attached to the freshly minted trade deal to replace the North American Free Trade Agreement (NAFTA) paves the way for the U.S. to limit how far Mexican trucks can transport goods into the U.S. The provision represents a victory for the International Brotherhood of Teamsters and the Owner-Operator Independent Drivers Association (OOIDA), which had worked for over 20 years to block NAFTA cross-border trucking provisions. It may disfavor Mexican carriers that have not been granted authority to operate in areas beyond the U.S. commercial zones…"It's up to the Congress to fill the policy space that the annex offers," Mike Dolan, a trade policy specialist for the Teamsters, told Bloomberg Law, welcoming the trucking language… Bureau of National Affairs
October 16, 2018 |

SOLIDARITY

| […] Many people may have grown up in non-union households and do not know what it is like to strike or to have a family member be on strike. I believe that most people are well meaning and want to do the right thing, but they may need some help with ideas. Inspired by the Marriott hotel workers who are on strike, I began to tweet information about their strike on twitter to show support. I created this list of ways people can support workers on the picket line and one thing not to do. It is by no means an exhaustive list and it isn't anything that any organizer would not know, but I think pulling them together in one place helps folks to be a good ally… Law at The Margins
UPS and UPS Freight members: Balloting materials were mailed to you last week.

• The 2018-2023 tentative Master Agreements and the tentative Supplemental Agreements are posted at UPSRising.org

• UPS member questions from Aug. 11 teleform call are answered here.

• 10 reasons to vote YES

• Vote YES to new jobs and a stronger contract. Click here to view and download the flier.

• UPS Freight TA strengthens protections against excessive forced overtime. Learn more.

• Listen to the UPS teleconference call from Aug. 25 here

• Listen to the UPS Freight teleconference call from Aug. 22 here

• Wondering how the UPS contract was negotiated? Get the facts here

• Balloting materials will be mailed to eligible members Sept.11-14, 2018. Ballots will be counted Oct. 5, 2018. Stay tuned for additional balloting instructions.

• UPS part-timers: Join the contract update teleforum Aug. 8 @ 5:30 pm, to learn more about the contract. Topics and call-in information here.

• UPS Freight members: Join the UPSF tentative agreement update conference call Sept. 9 @ 7 pm. Call in info here.

• UPS part-timers: The National Master tentative agreement provides higher wages and benefits for you. Take a look at this chart..

• Answers to your questions from the Aug. 25 teleconference call are here.

• UPS feeder drivers: The National Master tentative agreement provides improvements and protections. Take a look at these highlights.

• Listen to the Part-Time UPS Members teleforum call from Sept. 8 here.

• UPS package car drivers: The National Master tentative agreement increases progressions. Take a look at this chart.

• UPS Freight members: Listen to the teleforum call from Sept. 9 here.