News Items - September 2016
Teamsters call for government intervention in LA ports crisis
Sept. 6, 2016 | The bankruptcy of Hanjin, a major Korean shipper, is causing chaos at the Port of Los Angeles with dozens of ships and a half million cargo containers stranded at sea of the Port of Los Angeles. The livelihoods of many workers, from ship crews to workers who handle the cargo at the dock are threatened. Members of Congress, the Chair of the Federal Maritime Commission and labor leaders are calling on government action on the cargo delivery crisis… uslabornews.com
Hoffa: Don't let GOP curb new pro-worker rule
Sept. 6, 2016 | …The Teamsters have been out front on these issue, even passing a resolution of support during its 29th International Convention in June. Why? Because the union believes in the fundamental principle that employers who receive federal taxpayers' money should comply with federal labor law. That means rejecting wage theft, safety violations and discrimination on the job… teamster.org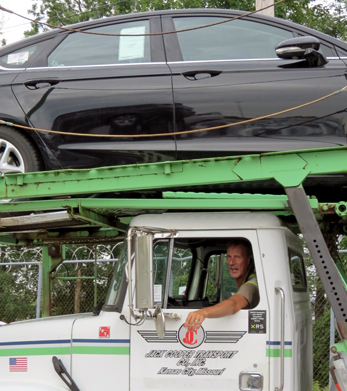 This week is National Truck Driver Appreciation Week
Sept. 13, 2016 | This is the time to remind everyone of the sacrifices and skills of professional truck drivers who keep America moving. Teamsters are celebrating the hard work of the men and women behind the wheel who labor on our nation's roads and highways. The IBT is asking Teamster truck drivers to send in photos of you and your truck! Post them at www.facebook.com/Teamsters. Don't forget to say what company and Teamster local you're with. Later this week all our photos will be presented in a video on teamster.org and on the Teamster Facebook timeline. Ready? GO!
Today is #StopTPP call-in day: Make the call against this job-killing trade deal
Sept. 14, 2016 | We urge all Teamsters to join in this action and flood Congress's phone lines today with calls to every lawmaker asking them to pledge their opposition to the TPP. The TransPacific Partnership is a 12-nation corporate power grab that will ship thousands of jobs overseas, lower wages in the U.S. and undermine laws that protect workers and the environment. Please call your senators and representatives now at 844-394-8431 – tell them to commit to standing firm against the TPP.
Self-driving trucks threaten one of America's top blue-collar jobs
Sept. 26, 2016 | …Carmaking giants and ride-sharing upstarts racing to put autonomous vehicles on the road are dead set on replacing drivers, and that includes truckers. Trucks without human hands at the wheel could be on American roads within a decade, say analysts and industry executives…latimes.com General President Jim Hoffa: "...It's not going to happen…"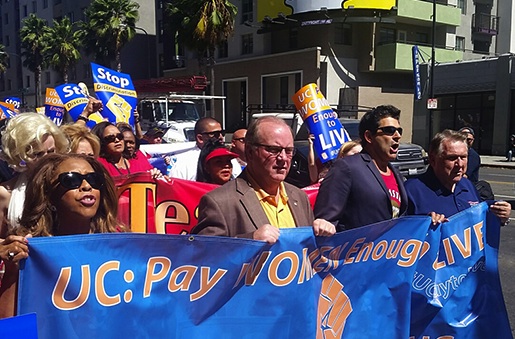 Teamster women take over Hollywood...
Sept. 28, 2016 | Hundreds of Teamster women marched through the streets of Hollywood, California on Friday, Sept. 23, in support of University of California (UC) Teamsters [Local 2010], and their fight for better wages. Teamsters attending the union's annual women's conference joined the rally where they called on the UC system to deliver a fair contract… peoplesworld.org