News Items - September 2019
A Labor Day message from General President Hoffa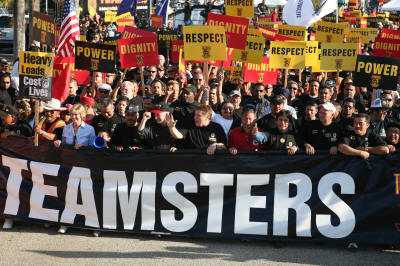 Sept. 2, 2019 | The American labor movement is responsible for many things we take for granted—the weekend, the 40-hour workweek and anti-child labor laws to name a few. Today, our movement is reinvigorated and working for other profoundly important things: securing wages and benefits that working families deserve and retirees earned, the continued existence of the middle class, and respect and dignity for all working people. I'm proud that the Teamsters Union is at the forefront of this effort. But make no mistake, working families are still being attacked and scapegoated. Corporate-backed politicians have mounted the most vicious anti-union attacks in memory. The labor movement, and the Teamsters Union in particular, is alive and well and is still forcing change… Continued at Teamsters
Hoffa: Empowering workers now through 2020
Sept. 5, 2019 | This Labor Day, unions like the Teamsters find themselves in a strong position. The public's support of the labor movement is as strong as it's been in the last 16 years. There is an understanding by a sizable majority in this country that hardworking Americans deserve higher pay and greater respect on the job. But to ensure that continues, workers need to stand up for their rights. That's why the Teamsters Union, some 1.4 million members strong, is currently weighing all the candidates seeking the U.S. presidency in 2020 for a possible endorsement. To earn it, those seeking to become the nation's chief executive will have to prove that they side with workers. In an effort to get presidential contenders on the record about the topics workers care about, this union is training members and retirees … Teamsters
Baltimore Local 355 Teamsters on strike at DHL Express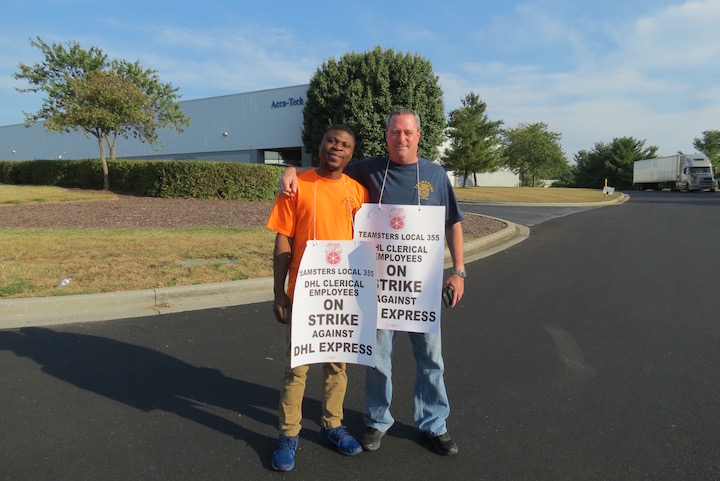 Sept. 13, 2019 | A group of office clerical staff at DHL Express in Hanover, Maryland, walked off the job early Thursday over the company's refusal to allow the workers to participate in the same Health & Welfare plan as the other Local 355 members employed as courier drivers at DHL Express. "A fair settlement encompasses the same benefits other union employees receive," said Denis Taylor, President of Local 355. "This issue is the only thing holding up the contract. Union members deserve union benefits." Read more at Local 355 Update Sept. 19, 2019: The strike continues. DHL clerks extended their picket line this week to Philadelphia as the strike continues. Tijani Tajudeen, left, had support last week on the Baltimore picket line from Local 355 Business Agent Eric Wood. Stay tuned for updates.
How a 3-person strike in B'more is taking Philly workers off the job
Sept. 18, 2019 | The power of a strike lies in its ability to cripple a company's operations. So when three clerical workers at a DHL facility outside of Baltimore went on strike last week because of a dispute over benefits, it might not have sounded like a big deal. But those workers are represented by the Teamsters, whose members have the right to "honor a picket line" of their fellow DHL colleagues if the picket line shows up outside their workplace. And on Monday, the Baltimore picket line did show up, in Southwest Philly, which meant that about 100 DHL workers — people who unpack the planes, process packages, and deliver them around the city for the German international delivery company — didn't cross the line and instead, went home. They did the same on Tuesday and will do so throughout the week if the picket line remains… The Philadelphia Inquirer
Local 355 strike at DHL strike resolved
Sept. 23, 2019 | A week-long strike by three DHL clerical workers represented by Local 355 has been resolved. The employees unanimously approved on Friday an improved offer of settlement from the company that addressed the employees' concerns about health care. All employees have returned to work. The clerks will be covered by the National Master DHL Agreement. In addition, under the Local Union rider, they will receive wage increases, improved vacation leave, additional sick and personal days, and participation in the Teamsters 355 Health Plan in 2020. Local 355 Principal Officer Denis Taylor stated, "I'm proud of these members for taking a stand and staying strong. I'm also thankful to the other members of Local 355, Local 107 and Local 500 that honored the strikers' picket line."