PA Teamsters stand against Paycheck Deception bill
March 7, 2014 | Teamster members and leaders joined with York County legislators to dennouce what has been termed the 'Paycheck Deception Bill' (House Bill 1507) at a press conference today…'HB 1507 has one purpose and only one purpose – to weaken unions and lower our wages," said Danny Grace, Secretary-Treasurer of Local 830 in Philadelphia. Full story at teamster.org. Related: 'We're Teamsters, we're Republican and we vote – but not for anti-worker politicians.'
Teamsters back school bus drivers in fight against 'rampant' wage theft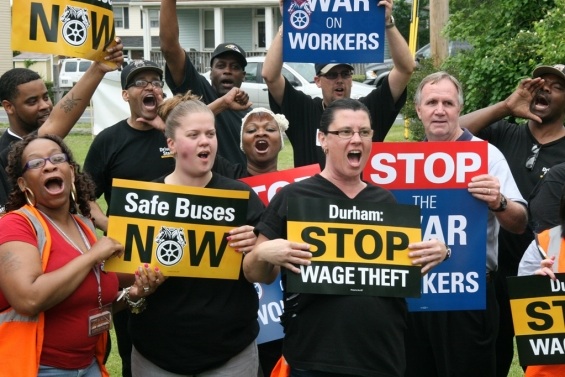 March 11, 2014 | More than 350 Baltimore-area bus drivers are preparing to celebrate victory in a $1.24 million wage theft case against Durham School Services, an Illinois-based business contracting company with operations across much of the country…The settlement of the U.S. District Court case should be finalized April 4, with distribution of the stolen wage money following immediately afterward, says Moe Jackson, a union organizer for Teamsters Local 570. The Teamsters initiated the wage theft case on behalf of the workers. Full story at inthesetimes.org.
Teamsters host UPS workers union network meeting
March 14, 2014 | The Union is hosting an international delegation of representatives from trade unions that represent UPS workers worldwide to share information and coordinate strategies. Learn more at teamsters.org
IBT: Time for Congress to move on income inequality
March 17, 2014 | A Senate committee took up discussion of income inequality during a hearing last week focused on how to improve the lives of working families. But unfortunately, not everyone agreed that Capitol Hill needed to lend a hand to lift wages. Full story at teamster.org.
Historic hearings begin at OSHA re new regs to limit silica dust exposure
March 18, 2014 | Hearings begin today in Washington, D.C. on a new regulation – the first major health and safety standard in years – to limit workers' exposure to silica dust. OSHA's new regs are vital to prevent cancer and disease for workers in construction, foundries, hydraulic franking and other industries. Exposure causes silicosis, lung cancer and lung and kidney disease. Experts say the new limits on exposure could save 680 lives a year.
Application deadline for Hoffa Scholarship is March 31.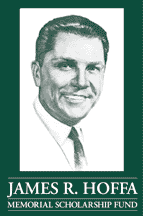 March 24, 2014 | The James R. Hoffa Memorial Scholarship Fund awards annual scholarships to qualifying high school seniors who are children or dependents of Teamster members. One category of awards totals $10,000 each. These four-year scholarships are disbursed at the rate of $2,500 per year and are renewable annually. Other awards are one-time $1,000 grants. These scholarships are disbursed to the college or university at the beginning of the recipient's freshman year. Guidelines for scholarship application. Download application here.
A brief glimpse of human rights advances in the Teamsters
March 31, 2014 | Women and minorities have always been active in the labor movement. Much of the critical legislation that has been passed over the years started as grassroots movements from within one or more of these groups, even though they frequently did not receive credit or recognition for their efforts. Click here for information and stories that provide examples of the activities, issues and concerns of women and minutes, and how they are viewed and supported by the Teamsters.