News Items - October 2013
Bargaining with your future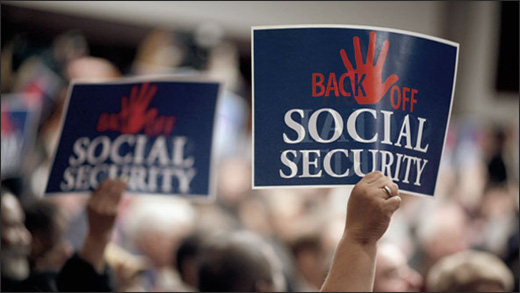 Oct. 18, 2013 | The government shutdown that began on October 1 once again [showed] right-wing extremists in the U.S. House of Representatives favor ideology over their constituents. [During those] two-weeks, hard-working Americans had their livelihood threatened with furloughs, the suspension of vital services. Behind closed doors, lawmakers have considered a reckless proposal to enact the "Chained-CPI" measure to Social Security, cutting a vital source of income for our elders by thousands of dollars. Our fiscal challenges cannot be solved on the backs of America's seniors. Continue reading...
Teamsters stop FMCSA attack on truck drivers
Oct. 21, 2013 | The Teamsters Union helped score a victory for truck drivers this week when H.R. 3095 was signed into law compelling the Federal Motor Carrier Safety Administration (FMCSA) to follow the formal rulemaking process to set strict guidelines for when they can require screening, testing and treatment for sleep apnea…"This law, which passed the House with a unanimous vote, protects millions of working men and women who turn a key for a living from being forced to spend money on a test they may not need at the whim of a federal agency," said General President Jim Hoffa. Read more at Teamster.org.
Top 5 reasons to vote on Tuesday, Nov. 5
Oct. 25, 2013 | Election day is coming. Are you registered? It's important — and not only because people have gone on hunger strikes and been murdered so their fellow Americans can vote. Voter registration is one of the most powerful means union members use to make our voice heard, and it's a priority of the International Brotherhood of Teamsters. Click to learn why it is important for you to register and show up on November 5.
Shop news update, Local Union officers election
Oct. 29, 2013 | Local 992 shop news in brief are available at the Members Info tab on the left. We are conducting an election of Local Union officers. Ballots were mailed October 23 and will be counted Nov. 15. Ballots will be picked up at the post office at 8 p.m. and then counted at the Holiday Inn Express in Hagerstown.
YRC requests meeting with Teamsters to talk about company's future
Oct. 30, 2013 | The company announced late on Monday it has reached an agreement with the Teamsters to hold a "company update" in Dallas on Nov. 5 at the request of the company. Read more at Kansas City Business Journal.
ABF Central Region members reject strike authorization
Oct. 30, 2013 | IBT statement: In a vote with 77 percent turnout, a majority of the membership covered by the Central Region Local Cartage Supplement has overwhelmingly (70% to 30%) chosen not to authorize a strike at ABF. Consequently, in accordance with the IBT Constitution, TNFINC is going to poll the ABF Master Negotiating Committee within the next 24 hours to determine whether to accept ABF's final offer on the last remaining open supplement. ABF statement.