Pennsylvania Senate OKs public employee collective bargaining bills
May 7, 2015 | Republicans on Wednesday gave Senate approval to two bills that they said would increase transparency in collective bargaining for public employees, but which Democrats equated to union-busting. One bill would require the state Independent Fiscal Office to analyze the cost of any collective bargaining agreement proposed for workers under the governor's jurisdiction. Full story...
At Unity, Teamsters look ahead to a bright future
May 11, 2015 | Some 1,600 Teamsters brothers and sisters from across North America gathered together Sunday as part of the 12th annual Unity Conference to share their success stories and speak truth to power about the increasingly perilous state of workers across the continent. Follow the days' reports and photos here.
Senate success against fast track push! *
May 13, 2015 | Senate Democrats took a stand today against efforts to ram fast track trade authority through the chamber, denying an effort to move forward with consideration of the legislation. The vote further delays big business' desire to pass fast track and raises serious doubts about the future of the 12-nation Trans-Pacific Partnership (TPP). Full story... *May 15: "A simple up-or-down vote on a trade deal of this magnitude is not in the best interest of middle class Americans. They have seen firsthand the real impact of unfair, unbalanced trade agreements over the past 20 years. I call on every member of Congress to vote down fast track and do their part to protect our country from another bad trade agreement." President Hoffa's full statement..
Teamsters, allies voice outrage at attempts to gut truck safety laws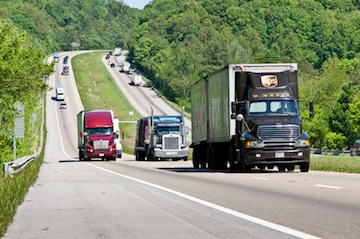 May 18, 2015 | Teamsters joined forces last week with safety advocates, crash victims, and law enforcement allies for a press event on Capitol Hill to speak out against proposed rollbacks of major truck safety regulations. The event was held as the Appropriations Committee considers this bill, which includes "riders" that will force truck drivers to work longer hours and drive
Pa. lawyers working for attorney general press for unionization
May 20, 2015 | A unionization effort by the 189 attorneys that work for Pennsylvania Attorney General Kathleen Kane is taking shape. The American Federation of Teachers Pennsylvania has invited the lawyers to a May 27th meeting at which they can discuss "workplace issues." The move to unionize could have been partially sparked by Kane's actions since being elected... Full story
Fast Track vote in Senate may happen today
May 22, 2015 | Yesterday the Senate voted to end debate, meaning that a final vote could take place today. We cannot let up in the fight against Fast Track. Please send another email to your Senators right now to ask that they oppose Fast Track when it comes up for a final vote.
Memorial Day magazine preview: Teamsters Military Assistance Program
May 25, 2015 | This Memorial Day, as we honor the men and women who gave the ultimate sacrifice for their country, we are paying tribute to our Teamster military heroes and the Teamsters Military Assistance Program (TMAP). Learn more...