News Items - February 2017
Teamsters strongly oppose national right-to-work legislation
Feb. 2, 2017 | The Teamsters Union strongly opposes national 'right-to-work' legislation introduced yesterday in Congress that will hurt workers and their unions. The destructive anti-worker bill, H.R. 785, is sponsored by Reps. Joe Wilson (R-S.C.) and Steve King (R-Iowa) and would amend the National Labor Relations Act and Railway Labor Act to institute damaging right to work in all states... teamster.org
Maryland lawmakers introduce Right to Work legislation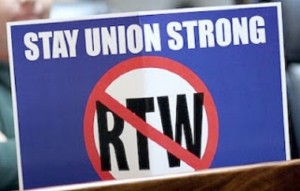 Feb. 6, 2017 | On January 30, 2017, Delegate Warren Miller (R- Carroll County), supported by eleven other delegates, introduced an anti-worker bill designed to benefit business interests at the expense of hard-working men and women and their families. A companion bill has been introduced in the Senate. We cannot stand by silently while anti-worker forces seek to erode the rights of Maryland's working people. Fight back! Details here...
Pa. Senate approves 'paycheck protection' bill
Feb. 13, 2017 | The Pennsylvania Senate last week approved legislation to stop public employers from deducting political contributions from workers' paychecks The Senate voted 28-22 to send the bill on to the House, which is scheduled to return for its next session day mid-March. Union officials have said the contributions are voluntary, and Democrats argues in the Senate that the proposal is intended to silence workers… post-gazette.com
Anti-union forces set sites on Iowa public sector
Feb. 20, 2017 | Just days after Missouri enacted so-called right-to-work legislation, Republicans in Iowa are pushing forward with an effort to restrict collective bargaining for public sector workers. State and local government workers in the Hawkeye State would be prohibited from negotiating issues such as health insurance, seniority or extra pay. The bill would also make it more difficult for unions to collect dues. Iowa Teamsters, whose members include many working in law enforcement, have been active in an effort to defeat the legislation… teamster.org
Teamster International Officer election certified
Feb. 21, 2017 | The results of the International Brotherhood of Teamsters election of officers have been certified by election supervisor Richard Mark. The certification can be viewed here. General President Jim Hoffa, General Secretary-Treasurer Ken Hall, International Vice Presidents and International Trustees elected in the membership vote will begin a five-year term in mid-March.