Why we need to tell Congress to vote NO on the job-killing TPP
The just-released TPP text is actually worse than we imagined. Here are just a few examples of how the TPP will undercut jobs and wages.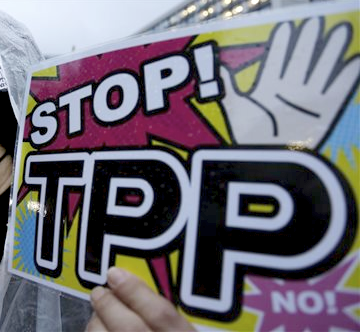 • The TPP forces U.S. employers into competition with companies exploiting workers in places like Vietnam, where the minimum wage is just a third of what it is in China's manufacturing centers, and Malaysia, where an estimated one-third of all electronics workers are victims of human trafficking.
• The TPP enables products assembled from parts made in "third party" countries that are not subject to any TPP obligations, such as China, to entire the U.S. duty-free, undercutting U.S. manufacturing.
• The TPP includes procurement provisions effectively barring Buy American and Buy Local government purchasing preferences.
• The TPP includes controversial investor-state dispute resolution (ISDS) provisions that make it safer — and, in fact, create incentives — for U.S. firms to offshore jobs to foreign countries where they can exploit low-wage labor under privileged foreign investor status rather than be forced to deal with the countries' regulator processes and courts.
• We also know that the TPP fails to include the currency safeguards demanded by a bipartisan majority in Congress that would prevent known currency manipulators like Vietnam, Japan and Malaysia from devaluing their currencies to gain an unfair trade advantage over U.S. employers.
Please contact your Congress members now and urge them to vote against this awful agreement!